A Revitalising Taste Experience to Help Combat Flavour Fatigue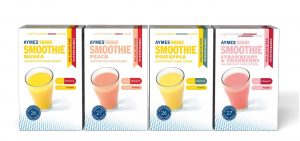 NEW AYMES Shake Smoothie is the only ACBS approved powder smoothie-style supplement on the market, made with plant-based rather than milk protein. AYMES Shake Smoothie is available in 4 delicious flavours to reduce flavour fatigue, and when mixed with 150ml water patients can enjoy the great AYMES taste with no unpleasant aftertaste, helping to improve compliance.
£1 per serving
10.7g protein – 35% more than the market leader2
297kCal per serving
Suitable for vegetarian and gluten free diets
24-month shelf-life
Samples can be ordered by HCPs at AYMES.com – and a direct-to-patient service is also offered.
Click here to request a tasting or call Customer Service on 0845 6805 496.
AYMES – Nourishment made Simple
1 Compared with Fortijuce, prices correct MIMS August 2018
2 Fortijuce