A Tribute to the Late Stanley J. Dudrick MD – Pioneer, innovator and forward thinker
By Gil Hardy PhD FRSC FASPEN and Stanislaw Klek PhD MD, Prof. for the International Clinical Nutrition Section (ICNS) of the American Society for Parenteral and Enteral Nutrition (ASPEN)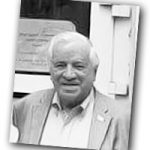 Stanley J Dudrick, MD, generally acknowledged as the Father of modern parenteral nutrition (PN), sadly died in mid January 2020. He had many friends and former students in the UK, including Prof Ivan Johnston, co-founder of BAPEN and Professor Miles Irving, who hosted the visit of Dr Dudrick to Hope Hospital to officially open the UK's first intestinal failure/home parenteral nutrition (HPN) unit in the 1980s.
Stan Dudrick started residency training in General Surgery at the Hospital of the University of Pennsylvania in 1961 under Dr Jonathan E. Rhoads. It was during that time the team, which also included Doug Wilmore MD, conceived the idea of delivering concentrated solutions of nutrients into the central venous circulation. The validity of this concept was demonstrated by successfully growing beagle puppies to adulthood, while being fed entirely by vein. Later the technique was successfully employed in an infant born with almost complete small bowel atresis, who survived and provided the first example of life saving intravenous feeding or parenteral nutrition (PN). In 1972, Dudrick moved to Houston as the first Professor and Founding Chairman of the Department of Surgery at the then new University of Texas Medical School, where an ambulatory/HPN service was initiated.
Even in those pioneering days the importance of using aseptic techniques was well understood by Dr Dudrick and his team: "Changing of bottles and replacement of tubing should be handled under conditions that ensure asepsis." Indeed, almost 50 years ago he described a revolutionary schematic concept for a pre-packaged multi-chamber plastic container, including individual compartments for micronutrients, to: "lessen the risk of contamination from airborne microorganisms." This innovative idea stimulated colleagues at St Mark's Hospital in London to develop the technology for the first disposable 3 litre PN bag, facilitating the wider acceptance of ambulatory/HPN.
As the author or co-author of over 700 published works, with 2,535 scientific reference citations, on the care and management of surgical patients with complex nutritional, metabolic, critical care and re-operative problems, Stanley Dudrick was acknowledged by Current Contents as the most published general surgeon, during a 13-year period up to 2008.
Among his more than 100 honours and awards, he was elected to eighteen honorary memberships and fellowships around the world, including Honorary Fellowship of the Polish Surgical Society. Stanley's grandparents originated from Poland, and during the first of many trips to Poland he succeeded in meeting his relatives, with the original version of his name 'Dudzic', who still live in a village called Zegocina (40 miles south of Krakow). Consequently, in 2010, he was the obvious choice to become patron of a newly built hospital in nearby Skawina, dedicated to intestinal failure and cancer patients, and named The Stanley Dudrick Memorial Hospital.
Dr Dudrick was a Fellow of the American College of Surgeons, a recipient of the prestigious Jacobson Innovation Award and served as President of the International Society for Parenteral Nutrition and, most importantly, was the first President of ASPEN, for which he was first honoured as the ASPEN Rhoads Lecturer for 2005 and with the establishment of an annual Stanley J Dudrick Research Scholar Award. Lastly, in 2017, he received ASPEN's first Lifetime Achievement Award. During his lecture at the 2003 ASPEN Congress, (when he became the only person to serve as President for a second term), he summarised his personal experiences with clinical nutrition. This lecture alone was worth more than many other papers published in the field and should become a must-read for everyone involved with Clinical Nutrition.
All the above summarises the professional life of surgeon Stan Dudrick, but it cannot describe his most important contribution as a motivator to the international clinical nutrition community. Suffice it to say, that for all of us he was a great mentor, a dedicated and inspirational teacher, a true gentleman and a good friend. Everyone who knew him or worked with him could always depend on his help and understanding as he never counted the hours spent talking to people, trying to understand and explain even the most complicated nutritional or surgical issues.
One of his other published quotes remains essentially true today: "Intravenous feeding promises to be a powerful tool for basic investigations in biochemistry, pharmacology and nutrition. The degree to which immune mechanisms can be altered by intravenous diets of selected amino acids may be significant in facilitating successful tissue transplants with potential applications that remain to be explored."
We will all miss him a lot, not only because he was always stimulating us with his motivational lectures but, more importantly, because he was always there for us – never refusing to talk, to discuss, to advise or help to solve our nutritional problems. He always found time for everybody. Thank you for everything Dr Dudrick. We send our condolences to your widow, Teresa (Terri), your children and grandchildren. You are sadly missed but we will continue to explore this fascinating field of clinical nutrition in your honour.