Abbott – Similac Alimentum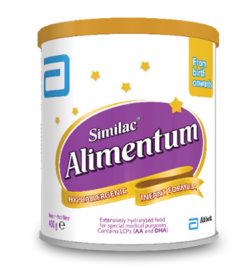 Cow's milk allergy (CMA) is one of the most common food allergies in childhood1,2 and can cause a range of distressing symptoms to those affected.3
Similac Alimentum is an extensively hydrolysed (EH) formula shown to relieve the distressing symptoms associated with CMA,4, 5, 6 offering the following
straightforward benefits:
Efficacious and proven to be well tolerated.4, 5
Offers simplicity with no need to switch formulas at 6 months.
Provides cost savings in the prescribing of EH formulations.*7
Speak to your local Abbott Account Manager to understand how Similac Alimentum can help your patients and your CCG.
IMPORTANT NOTICE: Breastfeeding is best for babies, and is recommended for as long as possible during infancy. Similac Alimentum is a Food for Special Medical Purposes and should be used under the supervision of a healthcare professional.
*Price per 100 ml when prepared as directed.
References: 1. Fiocchi A et al. WAO Journal 2010;3(4):57-161; 2. Venter C et al. Clin Transl Allergy 2013;3(1):23.; 3. Sladkevicius E et al. JME 2010;13(1):119-128.; 4. Sampson HA et al. J Pediatr 1991;118(4):520-525.; 5. Borschel MW and Baggs GE. T O Nutr J 2015;9:1-4.; 6. Data on file. Abbott Laboratories Ltd., 2013 (Similac Alimentum case studies).; 7. MIMS, May 2019.
Date of preparation: May 2019
ANUKANI190173