AYMES Saves the NHS £millions with a Fresh Approach to Prescribing Oral Nutritional Supplements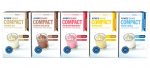 With the NHS under increasing pressure to make cost savings, AYMES is a welcome addition to the oral nutritional supplements (ONS) market, providing a fresh approach to prescribing by driving down prices. This has helped save the NHS more than £41 million since AYMES entry into the market. A figure equating to 104,000 hospital stays or 1,892 additional nurses.
AYMES provides high-quality, innovative nutrition products underpinned by a Price Pledge – to always be the most cost-effective solution in the community.  A recent innovation launched to market is AYMES Shake Compact, a powder milkshake-style supplement mixed with fresh milk and 55% cheaper than the ready-to-drink alternatives. Switching patients to AYMES Shake Compact – the only ACBS approved compact powder on the market – could save the NHS a further £15m each year.
Providing up to 321kcal and 12.6g protein per serving when mixed with 100ml whole milk, AYMES Shake Compact delivers more calories per ml than the market-leading ready-to-drink compacts, and allows patients to enjoy the delicious fresh taste of AYMES Shake, in a lower volume.
With a multitude of free of charge added extras, such as Tasting Sessions with our Partnership Managers, a 24-hour Direct-to-Patient Sample Service, a dedicated Customer Service Team, Recipe Guides, Shakers, Product Data Sheets, and Training Sessions, AYMES savings includes more than just the tariff price, ensuring treating malnutrition is as simple and straight forward as possible!
To order FREE samples or for further information, visit: aymes.com