Celebrating the Commonwealth Games…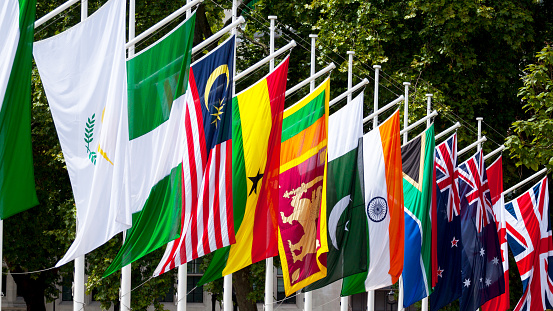 CN are delighted to welcome the Dietetic Team from University Hospitals Birmingham NHS Foundation Trust who, in celebration of the Commonwealth Games, have put together some fascinating country, cultural and dietary facts about a selection of some of the countries that have taken part in the recent Games.
Birmingham and the surrounding area of the West Midlands have just hosted a very successful Commonwealth Games and has given us the chance to promote the city. Everyone is aware of Birmingham's industrial past and that it is the second largest city in the United Kingdom in terms of population, with 1.145 million residents, but are you also aware of these interesting facts?
Birmingham is the youngest city in Europe with almost 40% of the population being made up of under 25s
Birmingham is home to Europe's largest urban park outside of London, and with over 8,000 acres of park and green space it is one of the UK's greenest cities
Birmingham has the most Michelin star restaurants in the UK outside of London
Birmingham Hippodrome is the UK's busiest theatre with over 520,000 visitors a year
The Hobbit and Lord of the Rings are based on places and people in an area called Moseley within the city, where Author JRR Tolkien lived
Tennis was invented on a lawn in Edgbaston in 1859
Perry Barr, where the commonwealth athletics stadium is, was home to the world's first ever ODEON cinema in 1930.
The commonwealth games has given us the opportunity as a Dietetic Team at University Hospitals Birmingham to celebrate Birmingham and the cultural diversity we have within our team at Queen Elizabeth Hospital, promoting the culture and cuisine from various countries around the Commonwealth – here we share a taster!
Authors: Fazila Bibi – Dietetic Assistant, Nishat Chowdhury – Senior Dietitian, Susan Duff – Dietetic Clinical Lead, Elizabeth Hickman – Specialist NET Dietitian, Susan De Waal – Specialist Renal Dietitian, Zainab Mollabux – Specialist Renal Dietitian, Charlotte Wardzynski – Specialist Oncology Dietitian, Susan Price –Deputy Director (Inclusion, Health & Wellbeing, Social Cohesion), Marcos Gregoriou – Dietitian, Eleanor Cornes – Senior Dietitian, Nazia Hussain – Dietetic Assistant, Reena Mair – Senior Dietitian, Ruth Chinuck – Dietetic Clinical Lead, Reiss-Dante Douglas – Dietetic Assistant, Daisy Wasilwa – Dietitian, Rebekah Smith – Specialist Max Fax & ENT Dietitian & Sara Price – Professional Lead for Dietetics
Dietetics, University Hospitals Birmingham NHS Foundation Trust