Ensure Plus Advance – Proven to Protect and Preserve Muscle Mass and Muscle Function in Older Adults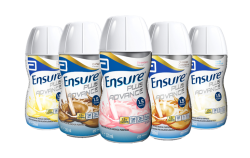 As we age, higher intakes of protein and vitamin D are recommended to maintain muscle mass and strength.1-4 But many adults ≥65 years in the UK do not meet the RNI (Reference Nutrient Intake) for protein,5 and have low serum vitamin D levels.6 Muscle disuse rapidly leads to atrophy and loss of strength.7 Loss of lean body mass impairs immunity, and can lead to a number of associated complications including functional decline.2,8
Ensure Plus Advance is the only oral nutritional supplement in the UK that contains high levels of protein, with additional vitamin D and calcium β-hydroxy-β-methylbutyrate (CaHMB). Ensure Plus Advance significantly increases muscle strength and mobilisation rates, and reduces wound healing in older malnourished patients, hospitalised due to hip fracture.9*
Ensure Plus Advance has been clinically proven to:
Protect and preserve muscle mass and muscle function in older adults.9*,10**
Accelerate wound healing after orthopaedic surgery, reduce immobilisation period and increase muscle strength.9*
Decrease the risk of mortality by 50% during a 90-day intervention period compared to standard care.11†
Per bottle, Ensure Plus Advance provides:
20g protein
500 IU vitamin D
330 kcal
499 mg calcium
5 g CaHMB
For further information, please speak to your local Abbott Account Manager, or visit https://nutrition.abbott/uk. For free samples delivered directly to your patients visit https://samples.nutrition.abbott, passcode: samples.
References and footnotes:
Kim JS et al. J Nutr Biochem 2010; 21(1):1-13.
English KL and Paddon-Jones D. Curr Opin Clin Nutr Metab Care 2010; 13(1):34-39.
de Souza Genaro P and Martini LA. Nutr Rev 2010; 68(10):616-623.
Brouwer-Brolsma EM et al. Osteoporosis Int. 2013; 24(5):1567-1577.
Cawood AL et al. Ageing Res Rev 2012; 11(2):278-296.
Hirani V et al. Age Ageing 2010; 39(1):62-68.
Jiricka MK. 2009. Activity tolerance and fatigue pathophysiology: concepts of altered health states. In Porth C M and Matfin G, Essentials of Pathophysiology: Concepts of Altered Health States. Philadelphia, PA: Lippincott Williams & Wilkins.
Demling R H. Eplasty 2009; 9:e9.
Ekinci O et al. Nutr Clin Pract 2016; 31(6):829–835.
Malafarina V et al. Maturitas; 2017; 101:42–50.
Deutz N E et al. Clin Nutr 2016;35(1):18–26.
*As shown in a randomised control trial to investigate the effects of a specialised ONS on older women (≥ 65 years) who underwent surgery for hip fracture vs. standard postoperative nutrition. Muscle function was measured by handgrip strength.
**Ensure Plus Advance was shown to preserve muscle mass in elderly patients after hip fracture surgery with rehabilitation when consumed twice a day for 30 days as compared to standard care.
†The NOURISH trial studied the impact of specialised ONS vs standard care on readmissions and mortality through 90 days post-hospital discharge. The study did not observe a significant effect for the primary composite endpoint of non-elective readmission or death at 90 days, but the specialised ONS was shown to decrease mortality risk through the observation period.
Date of preparation: June 2019 | ANUKANI190206