FoodMarble – The World's First Personal Digestive Tracker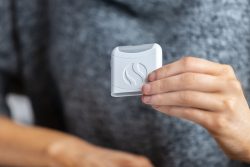 With a growing prevalence of IBS, it is estimated that between 10-20% of the general population suffer from the condition.1 Over the past number of years dietary intervention for IBS has greatly evolved and the low FODMAP diet is now regularly used among patients with the condition. Studies have shown a clinically meaningful response to the diet of between 50-86%,2 however compliance of the reintroduction stage of the diet protocol is not as well understood.3
FoodMarble have created a portable hydrogen breath test device and companion app which can help with the implementation of the low FODMAP diet. FoodMarble allows breath testing to be performed by the patient at home, throughout the entire restriction and reintroduction phase duration, at a fraction of the cost of traditional clinical tests. In parallel, patients can also log the foods they eat, and symptoms they experience through the FoodMarble app. This allows for accurate information for review by dietitians and empowers the patient when reintroducing food groups back into their diet.
To find out more information, please visit: https://foodmarble.com or email us on: clinician@foodmarble.com
References: 1. National Institute for Health and Care Excellence [NICE], CG61, 2017.; 2. Marsh A, Eslick EM, Eslick GD. Does a diet low in FODMAPs reduce symptoms associated with functional gastrointestinal disorders? A comprehensive systematic review and meta-analysis. Eur J Nutr. 2016; 55(3): 897-906.; 3. Hill P., Muir J. G., Gibson, P. Controversies and Recent Developments of the Low-FODMAP Diet. Gastroenterol Hepatol. 2017; 13(1): 36-45.