Juvela Gluten Free Prescribing Update
Juvela is pleased to confirm that all the Juvela Gluten Free (Flour) Mixes (white, fibre and harvest) and Bread Products including fresh, long-life and part-baked loaves and rolls (white and fibre) have all been reviewed and approved by the Advisory Committee on Borderline Substances (ACBS) and will remain available on prescription in all areas of the UK for patients with clinically diagnosed coeliac disease and dermatitis herpetiformis. Availability may vary depending on local CCG policy. We can also confirm that we will continue to supply the entire range of Juvela products to Scotland, Wales and Northern Ireland.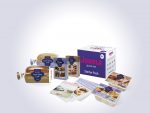 These changes follow a national consultation by the Department of Health & Social Care (DHSC) into the availability of gluten free foods on prescription in primary care.  An amendment to the Prescribing Regulations will come into force on the 4th December 2018 and from this date only bread products and mixes will be available on prescription in England. All other gluten free foods will no longer be prescribed and will be blacklisted within the amended Regulation.  This Regulation will only apply to prescriptions issued to patients in England. From December 2018 the Drug Tariff in England will include a new updated ACBS 'Borderline Substances List' of gluten-free products.
For links to read the DHSC Gluten free food prescribing consultation: report of responses and NHS England's Prescribing Gluten-Free Foods in Primary Care: Guidance for CCGs and for a full list of Juvela products and their availability in England, Scotland, Wales and Northern Ireland visit: www.juvela.co.uk/hcp-changes
For further information and to request a supply of Juvela starter cards for your newly diagnosed patients please contact Juvela via email info@juvela.co.uk or call Juvela Customer Services on: 0800 783 1992.