Marking 2019 World Microbiome Day, Nutricia and academic publisher Wiley launched a new book highlighting the expanding role of dietary biotics in infant nutrition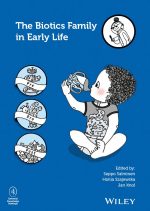 'The Biotics Family in Early Life', a Wiley Essential Knowledge Briefing, provides healthcare professionals with a free, practical guide on how dietary biotics can contribute to nutrition & health in early life.
The publication examines the role dietary biotics can play in supporting the development of a healthy, balanced gut microbiota and immune system, whether found in breastmilk or added to breastmilk substitutes.
Nutricia believes science-based information is essential to ensure adequate nutritional support for parents and their infants, and to empower mothers to make personally-relevant feeding choices. The Biotics Family in Early Life is intended as a practical guide for healthcare professionals who work with infants and their families.
Recognising the critical role nutrition plays in the first 1000 days, from conception up to two years of age, and its impact on lifelong health, Nutricia partnered with leading experts in the fields of paediatrics and gut microbiology to publish this educational resource.1
Professor Hania Szajewska, Professor and Chair, Department of Paediatrics, The Medical University of Warsaw, and one of the book editors, stated: "By publishing this practical guide, we intend to raise awareness of the growing diversity of dietary biotics, their impact on the gut microbiome of infants, and the contribution they can make to health and healthy development in early life."
Download the book for free: www.essentialknowledgebriefings.com/downloads/the-biotics-family-in-early-life/
Reference: 1. Visit www.isappscience.org  (International Scientific Association for Prebiotics and Probiotics)