New HyFIBER® Liquid Fibre Supplement Winning Friends!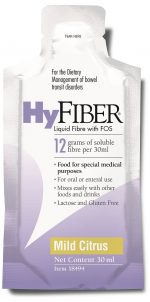 New HyFIBER, the low volume, liquid high fibre supplement with fructooligosaccharides (FOS) that contains 12g soluble fibre in each 30ml sachet is winning friends daily as health professionals discover its benefits with their patients.
Designed for the dietary management of bowel transit disorders and presented in a mild citrus flavour, HyFIBER is ready-to-use and can be taken orally without the need for pre-mixing; or administered via an enteral feeding tube.
Feedback from patients has included comments such as "Amazing product", "Easy to use", and "it's making such a difference"
Particularly useful with patients experiencing commonly seen 'see-sawing' between constipation and diarrhoea, new HyFIBER is proving to be an effective alternative to laxatives or bulking agents.
Request more information/a visit: If you would like more information about new HyFIBER, would like to receive samples, or would like to arrange a visit from one of the team, please visit: www.nutrinovo.com; email: info@nutrinovo.com; or call us on: +44 (0)1304 829068.