New ONE a day ONS from AYMES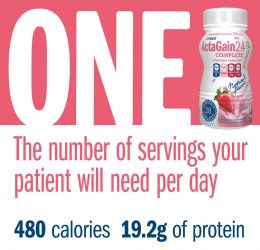 NEW ActaGain 2.4 Complete Maxi is a single-bottle solution for patients who find two 200ml servings of ONS too much.
With 480 calories and 19.2g protein, this single-serve 200ml format makes ONS easier for patients to take – helping to increase efficacy, reduce waste and save money. This innovative format is the only single-serve RTD ONS currently available on the market, simplifying oral nutritional supplements both for the prescriber and for their patients.
At just £1.33 per serving, ActaGain 2.4 Complete Maxi is the most cost-effective RTD ONS per calorie and per gram of protein on the market.
Once opened product can be refrigerated for up to 24 hours
Highest calorie per serving RTD ONS Available
28 vitamins and minerals
Suitable for Vegetarians1
1.Vanilla flavour only