Psychology in Action – Strategies and Tools to Enrich the Dietetic Consultation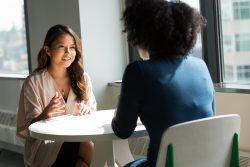 Parents and dietitians have the same goal in mind: improving a child's nutrition and ultimately their health. So strengthening connections with families is key – that's where psychology comes in.
Abbott has launched a new video resource, Connected Consultations, endorsed by the British Dietetic Association (BDA) for Continuing Professional Development (CPD)*, to provide paediatric dietitians with psychological strategies to enhance consultations with parents of children with special nutritional needs, including allergies.
Developed in partnership with psychologist Philip Graves, Connected Consultations is an eLearning resource exploring the psychological drivers that influence how a patient and their family may be feeling before, during and after an allergy consultation with a dietitian. It suggests practical strategies that can be integrated into paediatric dietitians' professional practice to support richer conversations for better outcomes.
Chloe Millington, specialist paediatric dietitian at Great Ormond Street Hospital, who advised Abbott on the content of the resource comments:
"As dietitians, we often dedicate CPD sessions to clinical dietetics relating to dietetic and medical treatments. We should aim to include broader psychological techniques and communication skills. I really like to use 'active listening', for example. As health professionals, we can often be under a lot of time pressures which can impact the quality of our listening skills. Taking the time to really hear parents can make them feel that we understand their concerns."
The module is available at: https://nutrition.abbott/uk/continuing-education/connected-consultations
* BDA endorsement applies only to the educational content of the learning activity.