Remote Dysphagia Assessments Made Easy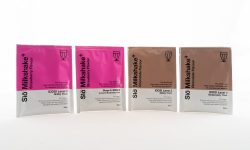 If you need to assess* dysphagia patients during lockdown, we can help by posting our Slõ Milkshakes+ direct to your patients.
They are the 1st pre-thickened and powdered high protein ONS on prescription at IDDSI Levels 2 & 3 in Strawberry and Chocolate.
Already containing a thickener that works with milk your patients and their carers simply mix them with 200mls of whole milk from the fridge.
They will then be able to safely swallow 23g+ of protein, 320+ calories, + a mix of 25 essential vitamins and minerals.
Not too sweet, no metallic after taste and made with fresh milk your patient should enjoy them and find it easy to maintain their oral nutritional intake.
To organise samples for your patients, just complete our secure encrypted online form at: www.slodrinks.com/samples. Posted the same day, they normally arrive in 48 hours.
To organize samples for your office, just email: samples@slodrinks.com
If your patient finds them helpful you can prescribe them using the PIP codes below. Costing 84p each they are presented in packs of 7.
| | | | |
| --- | --- | --- | --- |
|   | Pip Code |   | Pip Code |
| Strawberry IDDSI 2 | 4007639 | Chocolate IDDSI 2 | 4007662 |
| Strawberry IDDSI 3 | 4007647 | Chocolate IDDSI 3 | 4007654 |
•E: Support@slodrinks.com • T: 03452 222 205 • W: www.slodrinks.com
* The European Society for Swallowing Disorders created a webinar about basic procedures to assess and treat Oropharyngeal Dysphagia in Patients with Covid-19. As it could be useful, we've put a link to a pdf of the webinar at www.slodrinks.com/blog