Resource of the Month: Supporting you to manage dysphagia with confidence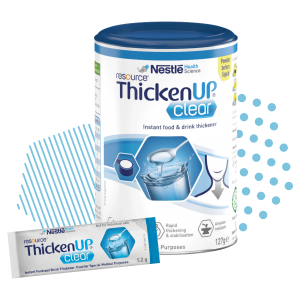 We've learnt a lot about dysphagia management over the last nine years, which is why patient safety and swallow risk reduction are at the heart of everything we do. Our aim is to instill confidence amongst care home teams when it comes to managing patients with dysphagia.
The best place to start? Learn how to prepare drinks with Resource® Thickenup® Clear safely every time with our mixing video, inclusive of step-by-step instructions.
We understand that choosing your dysphagia partner encompasses more than just selecting a thickener; you need expertise you can trust. Our specialised dysphagia team not only provide on-demand advice, but offer bespoke Safety Briefings, a multitude of educational resources, and patient samples – together, we've got this.
Find our mixing video and learn more here.
To find more resources, join the Nestlé Health Science N+ Education Hub – it's free, convenient and loaded with educational content on dysphagia and more.
For Healthcare Professional Use Only. Resource® ThickenUp® Clear is a food for special medical purposes for use under medical supervision. Reg. Trademark of Société des Produits Nestle S.A. 08/2020.