Nestlé Health Science ‐ Resource Junior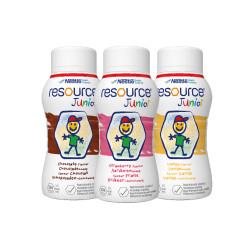 When a child is experiencing unusually fast or slow growth patterns, their long-term development is at risk, from their cognition and immunity to their social development. The right nutrition is essential in helping them to stay on track so they can reach their growth potential.
Resource Junior is a nutritionally complete dietary supplement that helps aid growth for children under medical supervision. It's readymade for children aged 1-10 years to sip feed under your care, addressing or reversing the negative health impacts of malnutrition and moving them towards the anthropometric measures you're aiming for.
Each scientifically designed 200ml bottle provides the child in your care with 300 kcal and 6.0g protein. Everything about Resource Junior has been tailored for children to enjoy in order to help increase compliance, from child-friendly branding to a choice of three different flavours – chocolate, strawberry and vanilla. All three are lactose and gluten free, so more sensitive tummies won't have any problem digesting them.
One of the best things about Resource Junior, for the NHS, is the price. It's a lot more cost-effective than many equivalents, and we've made ordering samples as easy as possible.
Simply sign up to the sample service today at nhscsampleservice.co.uk to get your free Resource Junior sample direct to your patient's door, or medical unit. Once you're registered you'll be able to order any products in the Nestlé Health Science range to help your patients reach their potential.