Special Offer for CN Readers from Alflorex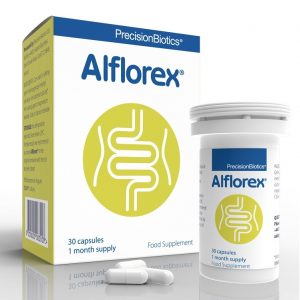 Alflorex®, with unique 35624® culture, has been clinically shown to reduce any and all of the following in people with IBS:
Bloating
Abdominal Pain
Unpredictable bowel habits
We are now running a special offer for CN readers:
2 months free Alflorex, worth over £50
Start your free trial at www.precisionbiotics.com/CN-Trial
Alflorex, the only product to contain the 35624® culture, researched and
developed by internationally renowned experts in gastroenterology.
Recommended in the World Gastroenterology Organisation guidelines.3
Supported by two positive double blind placebo controlled trials.1, 2
Reaches the gut alive and is active in the gut.
One small capsule or chewable tablet per day. No refrigeration required.
Learn more about the science behind Alflorex, visit: www.precisionbiotics.science
Offer valid until February 28th 2020 and is subject to terms and conditions, see  for details.
References: 1. O'Mahony, L., McCarthy, J., Kelly, P., Hurley, G., Luo, F., Chen, K., O'Sullivan, G., Kiely, B., Collins, J., Shanahan, F. & Quigley, E.(2005). Gastroenterology 128, 541-551. 2. Whorwell, P., Altringer, L., Morel, J., Bond, Y., Charbonneau, D., O'Mahony, L., Kiely, B., Shanahan, F. & Quigley, E. (2006). American Journal of Gastroenterology 101, 1581-1590. 3. Ford A.C., Moayyedi P., Chey W.D., Harris L.A., Lacy B.E., Saito Y.A. and Quigley E.M.M. (2018). American Journal of Gastroenterology 113(Suppl 2):1-18.