Two Recently Published Clinical Trials on SMA® Althéra® Confirm the Effectiveness of a New Recipe Suitable for Halal/Kosher Diets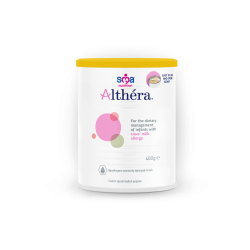 Historically, extensively hydrolysed formula (eHF) options for Muslim and Jewish infants with cows' milk allergy (CMA) who follow strict Halal and Kosher diets have been restricted as all eHFs are made using porcine (pig) pancreatic enzymes. Consequently, they have had to be prescribed clinically inappropriate and more expensive amino acid formula (AAF) alternatives.3-4
The new Althéra® recipe will be made using a microbial and plant‐derived enzyme blend. In two clinical trials it was shown that the new Althéra® recipe is equally as effective for relieving CMA symptoms in vivo and in vitro as the current Althéra® recipe.1-2 An earlier clinical trial showed Althéra® to be as efficacious as an AAF but with significantly less vomiting.5,*
The updated Althéra® recipe will be available from early 2020 and will enable more parents and caregivers to effectively manage CMA in line with their beliefs.†
Click here to learn more.
Footnote: †The factory has not yet been independently Halal/Kosher certified. *Althéra® is not recommended where only an amino acid is indicated.
Important Notice: SMA® Althéra® is a food for special medical purposes. It must only be used under strict medical supervision and after full consideration of the feeding options available, including breastfeeding.
References: 1. Nowak-Węgrzyn A, et al. Allergy. 2019. doi: 10.1111/all.13780. 2. Nowak-Wegrzyn, A. et al. Nutrients. 2019. 11, 1447. 3. Data Cards (Aug 2019). 4. Research on file. 5. Niggemann, B. et al. Pediatr Allergy Immunol. 2008. 194(4): 348–354.