UK EFFORT Trial: Official Product Sponsor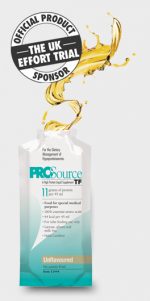 We are proud to announce that ProSource TF is the 'official product sponsor' of the UK EFFORT Trial. 
The EFFORT trial is a randomised clinical trial of 4000 patients, which hypothesizes that the administration of a higher dose of protein/amino acids to the nutritionally high-risk, critically ill patient may be associated with improved survival and a quicker rate of recovery.
What makes ProSource TF the ideal product to support the EFFORT Trial?
ProSource TF enables you to increase a patient's protein intake, without increasing their carbohydrates or volume. Furthermore, ProSource TF provides a high concentration level of ALL essential amino acids and has an osmolality level of 380 mOsm/kg water, making it close to isotonic, thus helping to improve patient tolerance.
If you are, or plan to participate in the EFFORT trial, please contact your local ProSource representative or email: info@nutrinovo.com for more information about how we can support you.