We Know What You're Made Of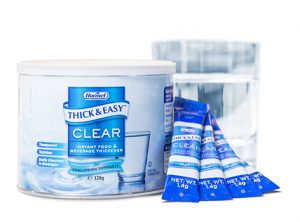 Dysphagia sufferers, estimated at 8% of the population,1 often struggle to take in enough liquids, even developing a fear of swallowing. It's time to take hydration seriously.
Thick & Easy Clear is prescribed to modify the consistency of drinks, helping people with dysphagia to swallow safely. Thick & Easy Clear:
Encourages fluid intake, therefore reducing the risk of dehydration
Is a gum-based thickener
Doesn't alter the natural appearance, taste or texture of drinks2
Retains a consistent thickness over time
Lessens the fear of swallowing
Find out more about dysphagia
For expert information, advice, case studies and the latest developments in clinical dysphagia research, visit www.dysphagia.org.uk – the online resource for HCPs, carers and patients with dysphagia. Alternatively, call Fresenius Kabi on: 01928 533 516 or email: scientific.affairsUK@fresenius-kabi.com
IDDSI
To find out about IDDSI updates, visit: www.whatwearemadeof.org
References: 1. http://iddsi.org/ Date accessed: November 2017; 2. Fresenius Kabi data on file – Thick & Easy Clear – Acceptability Study Report Sept 2014.
Date of preparation: January 2018. Job code: EN1461. Thick & Easy is a trademark of Hormel Health Labs. Fresenius Kabi is an authorised user.