Publication Subscriptions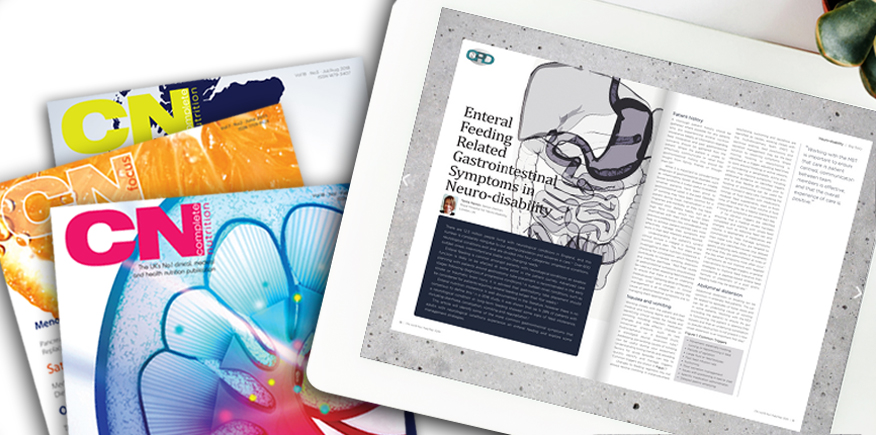 Do you qualify for a FREE CN Magazine subscription?
(includes print/digital)
The following groups of UK or Republic of Ireland based healthcare professionals qualify for the following free-on-request subscriptions to CN Magazines:
UK-based registered dietitians: print or digital
Registered dietitians: digital only
Nutrition & gastro nurses: digital only
Gastroenterologists: digital only
Nutrition pharmacists: digital only
Registered nutritionists*: digital only
Dietetic Assistants: digital only
Nutrition and dietetic students**: digital only
Apply for a free print or digital subscription

NOTES:
It can take 2 weeks for free of charge print subscriptions to be processed.  Once your details have been processed and added to the CN mailing list, you will receive the next issue that goes into production (not the issue in production at the time of subscribing).
Digital subscriptions will be processed within 72 hours.
Delivery of printed CN Magazines must be to a UK address.
If you have already subscribed to a print or digital version of CN Magazines and have login details, then please login via the subscription login tab as normal and you will have the option to add a digital or print subscription to your account.
*Must be a registered or associate nutritionist registered with the Association for Nutrition.
**Nutrition and dietetic students must be studying for a degree (BSc Hons) or higher qualification (e.g. Postgraduate diploma, MSc, PhD) from a recognised university/institution and be UK-based.  You will be asked to confirm your university/institution upon registration and student ID. Students will be required to renew their subscription annually.
---
Paid for CN Magazines subscriptions
(includes print / digital)
Don't worry if you don't meet the criteria for a free subscription. There are great value 'paid for' options that enable you to receive all nine issues* of the UK's No.1 read each year. Simply choose whether you would prefer to read CN Magazines in print or digitally and use the links below to access your preferred option:
In Print – Yearly subscriptions from ONLY £34.95 (country dependent)

Purchase a Print subscription
Digital format – Yearly subscription ONLY £9.99 (an email will be sent to you to inform you when the latest issue is available)

Click here to purchase your Digital subscription
*Nine issues of CN Magazines equates to six issues of CN Magazine and three issues of CN Focus Magazine per year
NOTE: Once your order has been received, processed and paid for, refunds will not issued as per our terms and conditions.