Diary dates

---
Remote Working: A health care professionals guide to virtual appointments
The course has been created by 3 clinical academic paediatric dietitians and advanced clinical practitioners, Dr Luise Marino, Dr Rosan Meyer and Marianne Williams.
Click here for further information.
---
The Nutrition Society: Introduction to Human Nutrition Webinar Series
Website: www.nutritionsociety.org/events/introduction-human-nutrition-webinar-series
---
BDA PENG Webinars 2021
August – BAPEN Service Improvement and Innovation Awards
October – Developing an effective nutrition support team
December – Complex EN / PN case studies
Website: www.peng.org.uk
---

COVID-19 Research Award
Nutricia customers are invited to apply for funding of up to £15,000 for research projects into the nutritional care of patients during COVID-19 recovery
Applications open 9am 4th June – 5pm 6th August
For info see COVID-19 Research Award (nutricia.co.uk)
(UK HCPs only excl.NI, T's & C's apply)
scientificaffairs@nutricia.com
---
August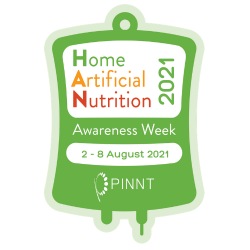 ---
International Conference on Nutrition & Growth
Date: 26-28 August 2021
Venue: Lisbon, Portugal
Website: https://nutrition-growth.kenes.com
---
September
Nutrition Society: Nutrition Futures 2021
Date: 6–8 September 2021
Venue: Cavendish Conference Centre, London + Online
Website: https://www.nutritionsociety.org/events/nutrition-futures-2021
The Leeds Course in Clinical Nutrition
Date: 8–10 September 2021
Venue: University of Leeds, Faculty of Engineering and Physical Sciences
Website: https://eps.leeds.ac.uk/short-course/1005/the-leeds-course-in-clinical-nutrition-2021-fully-booked
2021 ESPEN Virtual Congress on Clinical Nutrition & Metabolism
Date: 9–14 September 2021
Website: www.espen.org
43rd ESPEN Congress on Clinical Nutrition & Metabolism
Date: 11-14 September 2021
Venue: Milan, Italy
Website: www.espen.org
---
October
UEG Week Virtual 2021
Date: 3 – 5 October 2021
Website: https://ueg.eu/week
BSACI Annual Conference
Date: 7-9 October 2021
Venue: Harrogate Convention Centre, UK
Early bird registration available until Friday 30th July 2021
Website: https://bsacimeeting.org
Malnutrition Awareness Week
Date: 11–17 October 2021
A week dedicated to raising awareness of malnutrition (and dehydration) among the public, health and social care professionals, policy makers, public sector representatives, local and national government, third sector and voluntary sector organisations. UKMAW is run by BAPEN and the Malnutrition Task Force.
Prehabilitation: Principles & Practice for Supporting Patients to Get Fit for Surgery/Treatment
Date: 15 October 2021 – Virtual, online
Website: www.healthcareconferencesuk.co.uk/conferences-masterclasses/prehabilitation-fit-for-surgery-treatment-manc
7th Global Symposium on Medical Ketogenic Dietary Therapies
Date: 19–22 October 2021
Venue: Brighton Hilton Metropole, UK & Online
Website: www.globalketo.com
EFAD Congress – Virtual Edition
Date: 26–30 October 2021
Website: https://efadconference.com
---
November
nutritionday Worldwide
Date: 4th November 2021
Website: https://www.nutritionday.org/
BSG Annual Meeting Online
Date: 8–12 November 2021
Website: www.bsg.org.uk/bsg-annual-meeting/
Diabetes Professional Care
Date: 10 & 11 November 2021
Venue: Olympia London, UK
Website: www.diabetesprofessionalcare.com
ERAS USA Annual Congress
Date: 10–12 November 2021
Venue: New Orleans, USA
Website: http://erassociety.org
Frontiers in Colorectal and Gastrointestinal Disease 2021
The St Mark's 19th Annual International Congress.
Date: 17–19 November 2021
Website: stmarksacademicinstitute.org.uk/courses/frontiers-in-colorectal-and-gastrointestinal-disease-2021/
AuSPEN 2021 Conference
Date: 18-20 November 2021
Venue: Melbourne, Australia
Website: www.auspen.org.au/auspen-news/2021/5/17/2021-auspen-conference
BAPEN Conference 2021
Date: 30 November & 1 December 2021
Venue: Hilton Brighton Metropole, UK
Website: bapen.org.uk
---
December
BDA Research Symposium – Online
Date: 8 December 2021
Website: bda.uk.com/events/upcoming-events/research-symposium.html
---
2022
October
19th International Celiac Disease Symposium
Date: 19–22 October 2022
Venue: Sorrento, Italy & Online
Website: https://icds2022sorrento.com
---
NOTE: The information contained on this page was correct at the time of publishing.