Diary Dates
THE NUTRITION SOCIETY: Introduction to Human Nutriti
Remote Working: A health care professionals guide to virtual appointments
The course has been created by 3 clinical academic paediatric dietitians and advanced clinical practitioners, Dr Luise Marino, Dr. Rosan Meyer and Marianne Williams.
Click here for further information.
---
on Webinar Series
Date: 8 April – 31 December 2020
Website: www.nutritionsociety.org/events/introduction-human-nutrition-webinar-series
---
November

BAPEN Webinar Series
Topics include: Overcoming adversity in PN product provision • Rethinking oral nutrition support • Nutrition in neurological conditions • Optimal nutrition support in upper gastrointestinal surgery • Nutritional care for the sarcopenic obese patient • Leading the way in PN through COVID and beyond • Lessons learned from COVID-19: Nutrition and respiratory disease • Managing intestinal failure during difficult times • Achieving lasting change in the nutritional care of cancer patients
Dates: 9-20 November 2020
Time: 18:30-20:00
Website: www.bapen.org.uk/webinar-series.
Frontiers in Intestinal and Colorectal Disease
Date: 18-20 November 2020
Venue: The Royal College of Physicians, London, UK
Website: www.stmarksacademicinstitute.org.uk/courses/
---
December
BDA Research Symposium
Date: 2 December 2020
Venue: Birmingham City Centre, UK
Website: www.bda.uk.com/events/research_symposium/research_symposium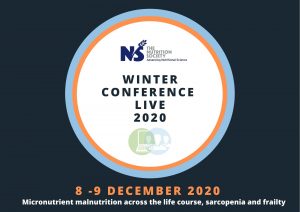 Winter Conference Live 2020
Details: 8 – 9 December 2020
Registration link: https://www.nutritionsociety.org/events/winter-conference-live-2020
St Mark's Hospital: Horizons in Intestinal Rehabilitation and Parenteral Nutrition
Date: 14-16 December 2020
Venue: Royal Society of Medicine, London, UK
Website: www.stmarksacademicinstitute.org.uk/courses/
---
2021
May
BSG Annual Meeting
Date: 19-21 May 2021
Venue: Liverpool, UK
Website: www.bsg.org.uk
KetoCollege 2021
An advanced CPD 3-day course for new and refresher Ketogenic Therapy learning and networking.
Date: 25-27 May 2021
Website: www.mfclinics.com/keto-college/ketocollege-uk-2021/ 
---
July
ERAS Congress
Date: 7-9 July 2021
Venue: New Orleans, USA
Website: http://erassociety.org
November
BAPEN Conference 2021
Date: 30 November & 1st December 2021
Venue: Hilton Brighton Metropole, UK
Website: www.bapen.org.uk
---
NOTE: The information contained on this page was correct at the time of publishing (Oct 2020).