Altrajuce; a new juice-style ONS with a delicious, refreshing taste for patients, and a cost-effective price for the NHS, is now available!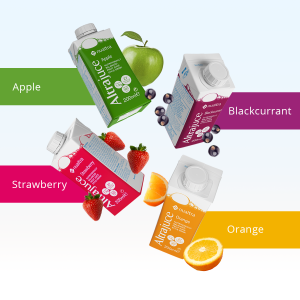 Available in four delicious flavours, including Apple, Blackcurrant, Orange and Strawberry, Altrajuce is up to 16% less expensive than other market leading juice-style ONS.
Altrajuce also features a new style packaging that uses 80% less plastic than other commonly-used ready-to-drink ONS, helping Nualtra lower its carbon footprint through reducing plastic production.
Containing 300kcals, 7.8g protein and 27 vitamins and minerals in 200ml, Altrajuce is ideal for patients who prefer juice-style drinks or want a change from milky-tasting supplements.
Lactose free but containing milk protein, it is perfect for combating taste fatigue while still providing key nutrients.
Nualtra are offering contact-free sample pack delivery to Healthcare Professionals and patients. Order today from: www.nualtra.com/get-samples