Are you involved in Dysphagia Training*?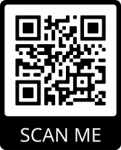 Did you know that between 50-75% of nursing home residents suffer from dysphagia?1 Nutricia has a training solution for you, a FREE e-learning covering the fundamentals of dysphagia management using Nutilis Clear.
The training is divided into 4 sections and has been specially designed for busy health and social care staff caring for people living with dysphagia. It takes 60 minutes in total to complete, however you can complete one section at a time.
How can this training help you?
Easy & convenient online solution to dysphagia training
Visibility to track progress in your care home
Raise the quality standard of dysphagia care in a consistent way
There is a certificate that can be downloaded once the training has been successfully completed.
Use the camera on your phone to scan the QR code to access the e-learning and get started!
For any questions contact your local Nutricia sales representative or our Resource Centre at: resourcecentre@nutricia.com.
Nutilis Clear is a Food for Special Medical Purposes for the dietary management of dysphagia and must be used under medical supervision.
*This training is intended for healthcare professionals only.
Reference: 1. O'Loughlin G, Shanley C. Swallowing problems in the nursing home: a novel training response. Dysphagia 1998; 13, 172-183.( https://www.rcslt.org/speech-and-language-therapy/clinical-information/dysphagia)