Bringing the Dignity Back to the Dining Experience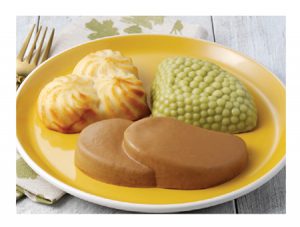 The latest innovation from Wiltshire Farm Foods involves the 'browning' effect of its duchess potatoes across the company's award-winning Level 4 Purée Petite range, to enhance the visual appeal of its meals even further and bring the dignity back to dining.
Favourites such as the company's Puréed Steak Casserole, Puréed Cheese and Onion Bake and Puréed Lamb and Gravy are now all accompanied by delicious looking browned potatoes.
For those with swallowing difficulties, the innovation will come as a welcome addition to the range, as Wiltshire Farm Foods continues in its mission to create dishes which both look and taste fantastic.
This is something which Stoke-based customer, Josephine Bailey, 50, appreciates, due to her own experience with swallowing difficulties following her oesophageal cancer diagnosis in 2019:
"For me, having a meal which resembles regularly textured food is an all-important part of the inclusivity factor of mealtimes, especially when we have friends or family round. These new 'browned' potatoes are the right texture for my swallowing needs and look great, so they really do tick all the boxes."
"My healthcare professional recommended Wiltshire Farm Foods as they have meals with different levels to suit various swallowing needs. So, it means I'm able to switch from Level 4 to Level 5 depending on how my dilatations go. The meals were certainly a welcome relief from my home-blended food which looked like mush and was often cold by the time I got round to eating it."
Eating home-blended texture-modified food that one is not accustomed to can, despite best efforts, often be unappealing and have a negative impact on a person's quality of life.