Celebrate Festive Favourites in a Safe Texture this Christmas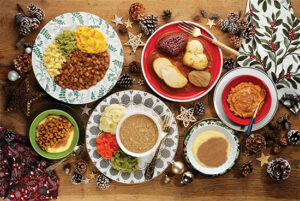 Wiltshire Farm Foods has unveiled a Softer Foods Christmas Collection which encompasses IDDSI Levels 4, 5 and 6, just in time for the festive season.
The ready meal provider has catered to all needs for those with swallowing difficulties – also known as dysphagia – this Christmas, understanding the importance of variety at a challenging time of year for those living with the condition.
Festive favourites include the company's limited-edition Level 4 Puréed Turkey with Stuffing and Level 4 Puréed Pudding and Vanilla Sauce. Brand new to its Softer Food range is a classic Sticky Toffee Pudding available in both Level 5 Minced and Level 6 Soft & Bite-Sized for the first time.
Also new to Level 6 is Soft & Bite-Sized Turkey in Gravy, which is gluten free and is served with Sweet Potato and Carrot Mash.
Registered Dietitian and Category Development Manager for Wiltshire Farm Foods, Declan Henderson, explains why developing new dishes across three different IDDIS Levels was so important to the company this year: "We know how challenging mealtimes can be for those living with dysphagia, especially at Christmas time, when food is often the centrepiece of celebrations with friends and family.
"That's why we are delighted to bring festive flavours to all IDDSI textures in our Softer Foods range."
Visit wiltshirefarmfoods.com/softer-foods-christmas for more details.