Celebrating Summer with New Softer Foods Range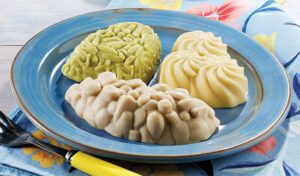 To celebrate the start of Summer, the team of in-house Chefs and registered Dietitians at Wiltshire Farm Foods have been busy expanding their range of IDDSI Level 4, 5 and 6 dishes.
The ready meal provider has launched six nutritious texture modified mains and desserts, which are suitable for those living with swallowing difficulties, to enjoy throughout the summer.
Packed full of flavour and nutrition, the new meals include a Level 4 Purée Petite Chicken and White Wine Casserole with Creamed Savoy Cabbage and Duchess Potatoes: a Level 5 Minced & Moist Mediterranean Vegetables and a Level 6 Soft & Bite-sized Sausages in Onion Gravy with West Country Cheddar Cheese Mashed Potato and Honeyed Carrots.
For those of your service users with sweet tooths, you'll be pleased to hear they can now enjoy a classic Level 4 Purée Eve's Pudding with Custard, a Level 5 Minced & Moist Rice Pudding with Summer Fruits and a Level 6 Soft & Bite-sized Coconut Sponge with Summer Fruits. All of these are suitable for vegans.
Developed with dietetic input, Maia Fergus O-Grady, Registered Dietitian at Wiltshire Farm Foods explains that customers are always at the forefront of the decision-making process when it comes to creating new meals:
"We understand the challenges that may arise when preparing texture-modified meals; when creating each dish, we're not only focusing on making sure our meals are a safe texture, but also ensuring they deliver on both nutrition and flavour."
Spend over £40 on Wiltshire Farm Foods dishes and receive a free dessert! Available for a limited time only. Visit: www.wiltshirefarmfoods.com/softer-foods-summer for more details.