Educational Booklets & Practical Tools from the FrieslandCampina Institute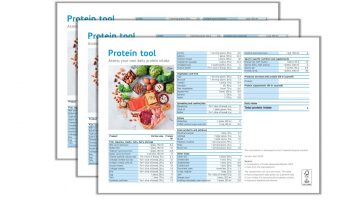 FrieslandCampina Institute provides nutrition and health professionals with a number of educational booklets and practical tools. Our latest booklets and tools:
Publication on sarcopenia
Sarcopenia, the decrease in muscle mass and muscle strength, is common with ageing. Sarcopenia is often associated with reduced physical function, such as difficulty climbing a flight of stairs or getting out of bed, which affects activities of daily living.
This new publication contains information about diet and exercise that helps limit the decrease in muscle mass and muscle strength in older adults. It also contains a definition of sarcopenia and guidelines for making a diagnosis. In the publication, recommendations and cut-off points from the European Working Group on Sarcopenia in Older People and other international expert groups are used.
Protein tool
A practical tool which clients can use to estimate their daily protein intake, and compare this to the recommendations for children, adults, elderly and athletes. The tool provides information on protein and protein quality, contains a table with commonly consumed products and their protein content per serving size.
Download our educational booklets and tools at: www.frieslandcampinainstitute.com/uk