EVENT OF THE MONTH: Blended Diet Network Annual Meeting 2022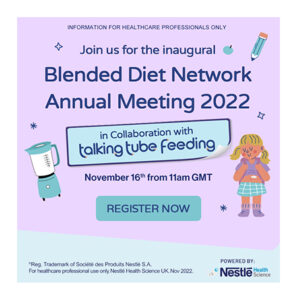 Join us for the inaugural Blended Diet Network Annual Meeting 2022. November 16th from 11am to 3:30pm GMT. Topics include the transition from paediatric to adult care, considerations for blended diets during a cost-of-living crisis with Harriet Farr and practical tips for family days out with Siobhan Quigley.
HCPs will have restricted access to educational content with talks from Dr. Graham O'Connor, Shelley Cleghorn and Mairead O'Sullivan as well as a live expert panel session with the speakers. This event is the first of its kind for Nestlé Health Science with content suitable for both healthcare professionals as well as parents and carers. Our aim is to celebrate the tube feeding community and help provide educational support with particular emphasis on blended diets.
Click here to register.
REGISTRATION LINK IS FOR HCPS ONLY