EVENT OF THE MONTH: Digestive Health & Wellbeing: The Patient Journey – Tickets now available!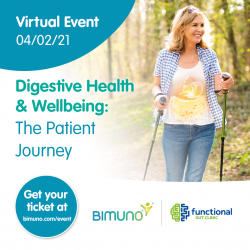 In the rapidly developing world of health and nutrition, it can be daunting for even the most experienced healthcare professional to keep up with the latest research on the complexity of the human gut. It is becoming increasingly difficult to see the 'bigger picture' and what the typical patient gut health journey looks like from start to finish.
In response to industry calls for clarity and surging patient awareness of gut health, on February 4th 2021, Clasado Biosciences, the team behind prebiotic supplement Bimuno®, is offering a fresh clinician-led perspective by co-hosting a virtual event with The Functional Gut Clinic – a learning opportunity not to be missed!
At 'Digestive Health & Wellbeing: The Patient Journey', delegates, including nutritionists, dietitians and general practitioners, will hear engaging talks from a diverse and experienced panel representing the various stages of gut health care.
As well as learning more about primary, secondary and tertiary care, the goal is to help attendees build a fuller and more robust understanding of how all the pieces of the gut health puzzle fit together. The event builds a stronger foundation of knowledge around the gut microbiome and its complex interaction with physical health and wellbeing, including immune function and athletic performance.
Tickets to attend are available for just £25, which include a certificate of attendance and an exclusive event goody bag worth more than £35. The event is endorsed by the British Dietetic Association and attendance qualifies delegates for CPD points.
Click here to secure your place today.