EVENT OF THE MONTH: Frontiers in Gut Microbiome Research: Application in Nutrition, Health and Wellbeing Digital Learning Event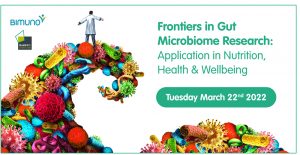 Frontiers in Gut Microbiome Research: Application in Nutrition, Health and Wellbeing is an unmissable digital learning event for healthcare professionals, taking place on March 22nd, 2022.
Sharing the latest in gut health research, the event is ideal for dietitians, nutritionists, general practitioners, and academics looking to get better connected with current evidence.
Tickets to attend the full day event are available to purchase on EventBrite.
Co-hosted by Bimuno and the Quadram Institute, this digital event will see an experienced panel of speakers share their knowledge and expertise on the gut microbiome from different perspectives and fields of interest, including areas such as immune function, nutrition and direct applications in the patient and consumer.
The panel for the day's events includes:
Dr Caroline Childs RNutr
Dr Stephen Robinson
Dr Liangzi Zhang
Laura Tilt RD
Prof. Lindsay Hall
Dr Neil Williams RNutr
Dr Aimeé Parker
The engaging sessions are set to arm today's healthcare professionals with a deeper and more actionable understanding of the gut microbiome and provide greater context concerning its connection to health and wellbeing.
The event is endorsed by the Association for Nutrition and the British Dietetic Association and attendance can qualify delegates for CPD points. Attendees will also receive on-demand access to session recordings.
To learn more about award-winning prebiotic supplement Bimuno, click here to visit the dedicated online portal for healthcare professionals.
Click here to learn more about the Quadram Institute and its mission to deliver healthier lives through innovation in gut health, microbiology and food.