Everything you need to test the most accurate infusion pump on the market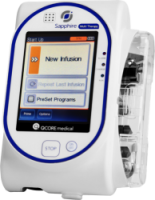 With +/- 2.5% accuracy, Eitan Medical UK's SapphireTM infusion pump is one of the most accurate ambulatory pumps available for parenteral nutrition – now nutrition teams can test the device for free with the launch of the new 'Eitan Partners Kit'.
Why the SapphireTM? The robust Sapphire infusion pump is already relied upon by NHS Trusts, private hospitals and homecare providers, and its patented Flow Control Technology delivers a market-leading +/- 2.5% accuracy
It is also very user-friendly, thanks to its easy set-up and maintenance, intuitive touchscreen control and compact, lightweight design.
Why Eitan Medical UK? Eitan Medical UK is built around a team of experienced specialists in clinical support, integrated care support and operations management and they're all passionate about delivering safe patient-focused infusion solutions that improve healthcare outcomes and quality of life.
Backed by Eitan Medical, the global leader in advanced infusion therapy, the UK operation has developed a market-leading clinical and technical support package and is excited to launch the free Eitan Partners Kit to attract more nutrition nurses to test its product and service.
What's in the kit? The Eitan Partners Kit contains a demonstration Sapphire device, accessories, including a backpack, pole clamp and box of consumables and a variety of learning options spanning full one-to-one bespoke product training, access to Eitan Medical's market-leading online Learning Management System and a collection of laminated quick-user guides. It's also completely free.
How can I get one? To enquire about how to  access your own Eitan Partners Kit simply email Adam Peters on Adam.Peters@eitanmedical.com or call 01865 504289.