Firmly Medical Launch ENFit Nasogastric Tubes for Enteral Nutrition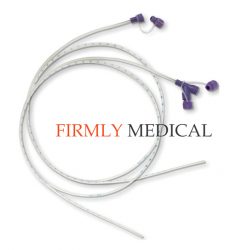 We are delighted to announce the launch of Firmly Medical's ENFit Nasogastric Tubes in the UK.
Our Bexen brand of long-term nasogastric (NG) feeding tubes for enteral nutrition are made of biocompatible, non-toxic, polyurethane material with good tolerance that prevents nasopharyngeal tract irritation.
Our Bexen NG tubes feature: printed scale; non-traumatic semi spherical ending; they come with or without guidewire, and an ENFit connector of 1 or 2 ways with hermetic closure at the proximal end and hemispherical tip holes at the distal end.
Our NG tubes are 100% radiopaque, latex free, sterile and single use, with diameters from CH6 to CH16.
This range of NG tubes are now available now from Firmly Medical and will also be available through the NHS Supply Chain from January 2021.
For more information please contact our sales team on sales@firmlymedical.com, visit: www.firmlymedical.com or call: 07947849930.