Fresubin® 3.2kcal Drink Cappuccino Flavour!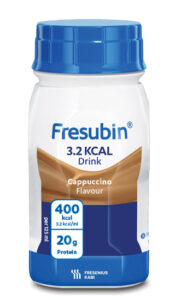 Introducing our newest addition to the ground-breaking Fresubin 3.2kcal Drink Oral Nutritional Supplements (ONS) range: A palatable Cappuccino flavour.1
In patient studies, assessing taste, mouth feel, smell, and visual appearance, 92% of patients gave a positive response.1
Fresubin 3.2 kcal Drink is the most energy-dense low volume (125 ml) ONS, with 3.2 kcal/ml and 20 g (20% energy) protein.2
Each 125 ml bottle of Fresubin 3.2 kcal Drink contains 400 kcal providing the minimum effective daily dose for energy from ONS for older adults.3, 4
High in protein (20% energy) with 20 g of a protein from a unique protein blend of collagen hydrolysate and milk protein.
Fresubin 3.2 kcal Drink can also be taken as a high energy, high protein shot – 3 x 40 ml/day.
Available in Vanilla-Caramel, Mango, Hazelnut, and now Cappuccino flavour in 125 ml Easybottle.
For more information or to request samples of Fresubin 3.2 kcal Drink visit: samples.fresubin.com/uk
References:
1. UK Patient Palatability Study. Data on file. June 2022.
2. MIMs online. Accessed August 2023.
3. Volkert, et al. (2019). ESPEN guideline on clinical nutrition and hydration in geriatrics. Clin Nutr.; 38(1): 10–47.
4. Milne, et al. (2009) Protein and energy supplementation in elderly people at risk from Malnutrition (Review). Cochrane database Syst. Rev.; 15(2): CD003288.
UK-Fre3.2-2300008
September 2023