Have you tried the NEW PKU GMPro Mix-In yet? It is available now to prescribe and sample!*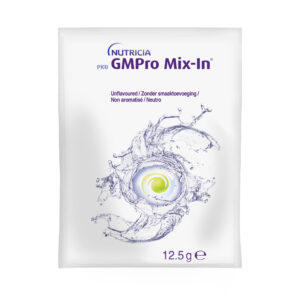 Introducing the new PKU GMPro Mix-In, a ready to mix, unflavoured and odourless powdered GMP-based substitute to meet the protein needs of your patients aged 3+ with Phenylketonuria (PKU).
The need to take a protein substitute several times a day can be demanding.1
PKU GMPro Mix-In can be easily mixed with a variety of low protein foods and drinks** for ultimate flexibility and choice.
Each sachet (12.5 g) contains 10 g protein equivalent. And with only 42 kcal per sachet (10 g PE), PKU GMPro Mix-In is an easy way to boost protein intake without adding too many extra calories.
Improving the taste of protein substitutes can help to encourage adherence.2-4 PKU GMPro Mix-In is unflavoured and odourless so patients can add it to their favourite low protein food or drinks.
References: 1. MacDonald A, et al. (2010). J Inherit Metab Dis.; 33(6): 665-670. 2. Van Wegberg AMJ, et al. (2017). Orphanet J Rare Dis.; 12(1): 162.
3. Macleod EL & Ney DM. (2010). Ann Nestle Eng.; 68(2): 58-69. 4. Pena MJ, et al. (2021). Orphanet J Rare Dis.; 16(1): 84.
*Product can be provided to patients upon the request of a healthcare professional. They are intended for the purpose of professional evaluation only.
**When mixing with food it is important to ensure that all food is consumed to ensure the full dose of protein substitute is delivered. Do not heat, bake or add to hot foods or drinks (above 55°C).