Heavy on Protein, Light on the Gut
Tolerance to tube feeds is often poor in patients with impaired GI function, leading to a range of unpleasant symptoms. Peptide-based tube feeds have been shown to improve tolerance.1, 2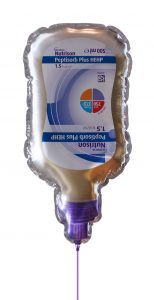 Nutrison Peptisorb Plus HEHP is a new peptide-based option for tube-fed patients
with GI intolerance symptoms. The high energy, high protein formulation has been shown to improve patients' tolerance, increase their compliance and may even help to lighten their mood.2
A 28-day clinical study in adult tube-fed patients with complex conditions, in 10 NHS centres around the UK showed that Nutrison Peptisorb Plus HEHP was well tolerated and accepted with excellent compliance:2
Energy and protein intake significantly increased
Significant reduction in diarrhoea severity
Compliance significantly increased
86% of dietitians felt patients tolerated and/or exceeded tolerance expectations
To find out more about Nutrison Peptisorb Plus HEHP, please contact your local Nutricia Contract Account Manager.
Please visit www.nutriciaHCP.com for more information.
References: 1. Alexander DD, et al. World J Gastrointest Pharmacol Ther. 2016;7(2):306-19.  2. Nutricia ACBS trial, data on file 2020.
Nutrison Peptisorb Plus HEHP is a Food for Special Medical Purposes for the dietary management of disease related malnutrition in patients with malabsorption and/or maldigestion and must be used under medical supervision.
This information is intended for Healthcare Professionals only.