HyFIBER – Think Differently About Bowel Transit…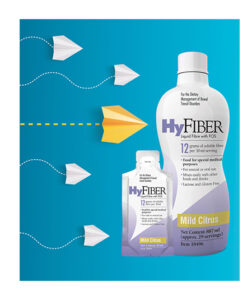 HyFIBER can be used to manage bowel transit disorders effectively without the ups and downs often associated with other approaches.
Containing a unique blend of polydextrose and fructo-oligosaccharides, HyFIBER absorbs water to soften the stool, promotes the growth of beneficial gut bacteria and stimulates the production of short chain fatty acids – these actions normalise bowel function by increasing gut motility, and improving stool frequency and consistency.
Found to be particularly effective in both adult and paediatric patients struggling with constipation, HyFIBER is a mild citrus flavoured liquid fibre supplement that can be taken neat, mixed with foods and drinks, or used alongside ONS or enteral formula.
To request a FREE HyFIBER sample pack, visit nutrinovo.com.