Introducing Kernels of Nutrition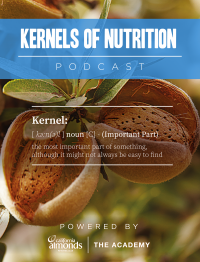 Kernels of Nutrition is the brand-new podcast brought to you by The Almond Board of California exploring one of the most important things in nutrition – communication skills.
This new podcast is part of the Almond Board's existing learning and development platform 'The Almond Academy' which seeks to help nutritionists and dietitians build on and refine their existing skills in nutrition communications.
In this debut series, you'll hear from registered nutrition professionals about how they strike the right balance between science and storytelling to create compelling messages whilst also protecting their integrity when sharing nutrition information on social media, within businesses and in the mainstream media.
Learn about:
Building a Successful Business: Marketing & Branding with Rhiannon Lambert, RNutr
Navigating Regulations & Health Claims with Ease with Claire Baseley, RNutr
Becoming a Freelance Consultant with Juliette Kellow, RD
Using Social Media Ethically & Effectively with Maeve Hanan, RD
Working with the Media as an Expert with Helen Bond, RD
This series is available across all podcast providers including Spotify, Apple, Google and Acast, so search 'Kernels of Nutrition' on your chosen podcast app to subscribe and listen now.
Visit almonds.co.uk to sign up to the Nutrition Bulletin and access all other Almond Academy resources.