Introducing New Isosource® Junior Mix Recipes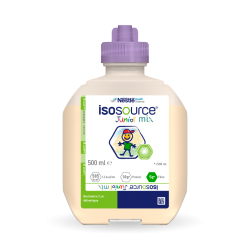 Anyone preparing a blended diet for their child knows how much commitment this takes.
Isosource® Junior Mix can be used easily and conveniently as a base in recipes with other ingredients to give blended food – perfect to support busy parents and caregivers. Each recipe card shows a picture of what the feed will look like, lists the ingredients needed and gives step-by-step instructions on how to make it. How-to videos are available online too. Each recipe has been designed with our expert chef and dietitian and in consultation with Enteral UK, who has approved the use of Fr 14 tubes with the recipes. The nutritional value of each recipe is also shown on each card. So, what's on the menu today? Pink Parfait Snack or Super Salmon Dinner?
For more information visit our website or contact your local representative.
www.nestlehealthscience.co.uk/isosourcejuniormix
Food for Special Medical Purposes. Isosource® Junior Mix is an enteral tube feed for the dietary management of patients with or at risk of malnutrition. Use under medical supervision. For healthcare professionals only. August 2020.