Introducing New Peptamen Junior 0.6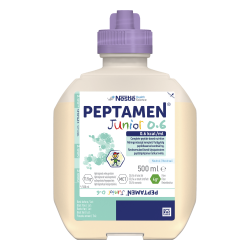 Designed for children who have reduced energy requirements, Peptamen® Junior 0.6 is the only low energy paediatric peptide formula in the UK.
Providing 0.6kcal/ml and 2.3g protein per 100ml, Peptamen Junior® 0.6 delivers complete nutritional support while helping to avoid excess calorie provision.
Like all of our Peptamen® Junior products, it is specially formulated to be well tolerated, digested and absorbed.1 An acceptability study of Peptamen® Junior 0.6 was presented at the 2020 BSPGHAN conference. Of 7 children completing the study, all children received 100% of their prescribed feed volume, and 6 children had no reported gastrointestinal tolerance problems.1
For more information or to request samples, visit: www.nestlehealthscience.co.uk/brands/peptamen/peptamen-junior-0-6, or contact your local representative.
Thornton-Wood et al (2020). To evaluate the acceptability, gastrointestinal tolerance and compliance of a low-calorie peptide based paediatric tube feed formula. Abstract number P25. Presented at British Society Paediatric Gastroenterology Hepatology and Nutrition (BSPGHAN) conference
Peptamen® Junior 0.6 is a Food for Special Medical Purposes for use under medical supervision. For Healthcare Professional Use Only. July 2020.