Level 4 Puréed Pasta Launched by Wiltshire Farm Foods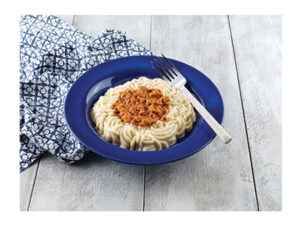 Wiltshire Farm Foods has launched its first ever Level 4 Puréed Spaghetti Bolognese, developed for those with swallowing difficulties and adding to its extensive range of over 80 texture modified meals.
New Product Development Manager, Lucy Sanderson, says launching this dish has been eagerly anticipated:
"So much time, determination and effort has gone into developing this dish. Ensuring the design closely replicates non-texture modified Spaghetti Bolognese was highly important and a real challenge. We wanted to create something that was truly recognisable for customers, which is why you can see the detail of individual spaghetti strands and non-uniformed shape of the Bolognese.
"Ensuring the flavour was perfect, from buttery spaghetti to rich tomatoey Bolognese was imperative. This really is a world leading TM dish and we can't wait for our customers to try it."
As trailblazers when it comes to the innovation of Softer Foods, the dish not only tastes delicious and looks fantastic, but it is also safe to eat for those who have been recommended a Level 4 IDDSI diet by their Speech and Language Therapist.
Registered Dietitian at the company, Maia Fergus-O'Grady, says now, more than ever, is a time to indulge in those comfort food classics:
"We recognise the importance of providing those with dysphagia with comforting dishes that we all love. By creating this tasty, nutritious, and visually appealing Level 4 Puréed Spaghetti Bolognese, we hope to enhance the overall health and wellbeing of those living with swallowing difficulties."