Liquid HyFiber Now Available in Multi-Serve Bottles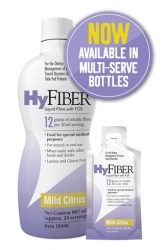 HyFiber is now available in handy multi-serve bottles as well as single-serve sachets. Each bottle contains 887ml, which means it will provide approximately 29 servings*
HyFIBER is a water thin, liquid fibre supplement with fructooligosaccharides (FOS) that delivers 12g soluble fibre in each 30ml serving.
Designed for the dietary management of bowel transit disorders and presented in a mild citrus flavour, HyFIBER is ready to use and can be administered via an enteral feeding tube, or taken orally.
One of the many key benefits of HyFiber is that it allows you to tailor the type and amount of fibre being given to your patients, without the limiting restrictions present in a typical fibre-containing enteral feed or ONS product.
To request a FREE sample pack of HyFiber, visit: www.nutrinovo.com
*Approximately a month's supply based on 1 x 30ml serving per day