Malnutrition pathway launches new fact sheet to advise on dealing with patients with sarcopenia
In light of the increasing evidence on the importance of preserving muscle mass as we age,1 the Malnutrition Pathway (www.malnutritionpathway.co.uk) has developed a new fact sheet focusing on sarcopenia (loss of muscle mass).
Disease, inactivity and poor nutrition can all contribute to sarcopenia and whilst it is more common in older age it can also occur in earlier life.2 Left untreated, sarcopenia can affect recovery from surgery or injury,3 hamper response to treatment,4 reduce functional capacity5, 6 or contribute to a more rapid deterioration in pre-existing conditions5-7 (see Figure 1).
Written by Consultant Dietitians Dr Ann Ashworth and Dr Anne Holdoway, the new sarcopenia fact sheet outlines why it is important to identify sarcopenia in all patients whether they are underweight, normal weight, overweight or obese. It summarises the multiple factors that can contribute to sarcopenia and the potential consequences to health, giving practical advice on diagnosis and treatment according to the patient's current nutritional status.
The fact sheet gives advice on how to identify sarcopenia and malnutrition, detailing the principles of management of malnutrition and sarcopenia, including guidance on optimising nutritional intake through diet and the inclusion of oral nutritional supplements when indicated, in combination with exercise.
"The COVID pandemic has further emphasised the impact of low muscle mass and muscle loss in impeding recovery," says Dr Anne Holdoway, Chair of the Malnutrition Pathway panel. "The combination of illness, reduced activity or bed rest, a poor appetite and reduced food intake frequently results in weight loss, particularly amongst older people and those with chronic conditions. Muscle is often lost at a disproportionate rate to fat mass. For optimal recovery, it's important we get the message out to healthcare professionals, patients and carers about the importance of a protein-rich diet, combined with resistance type exercise or activity tailored to the individual, to ensure muscle is repleted and a return to pre-illness function is achieved or improved."
"The consequences of not identifying and treating the sarcopenia can cause long term adverse outcomes for patients whilst putting additional pressure on the health service," says Dr Ann Ashworth, Malnutrition Pathway Consultant Dietitian. "Whilst in malnourished patients the presence of sarcopenia may be visually obvious, it is not always easy to identify sarcopenia in overweight or obese patients where it is easily missed. We hope this fact sheet will assist healthcare professionals in identifying and managing sarcopenia."
The 'Sarcopenia: loss of muscle mass' fact sheet is available free to healthcare professionals and can be downloaded at www.malnutritionpathway.co.uk/sarcopenia
Figure 1: Some of the consequences of muscle mass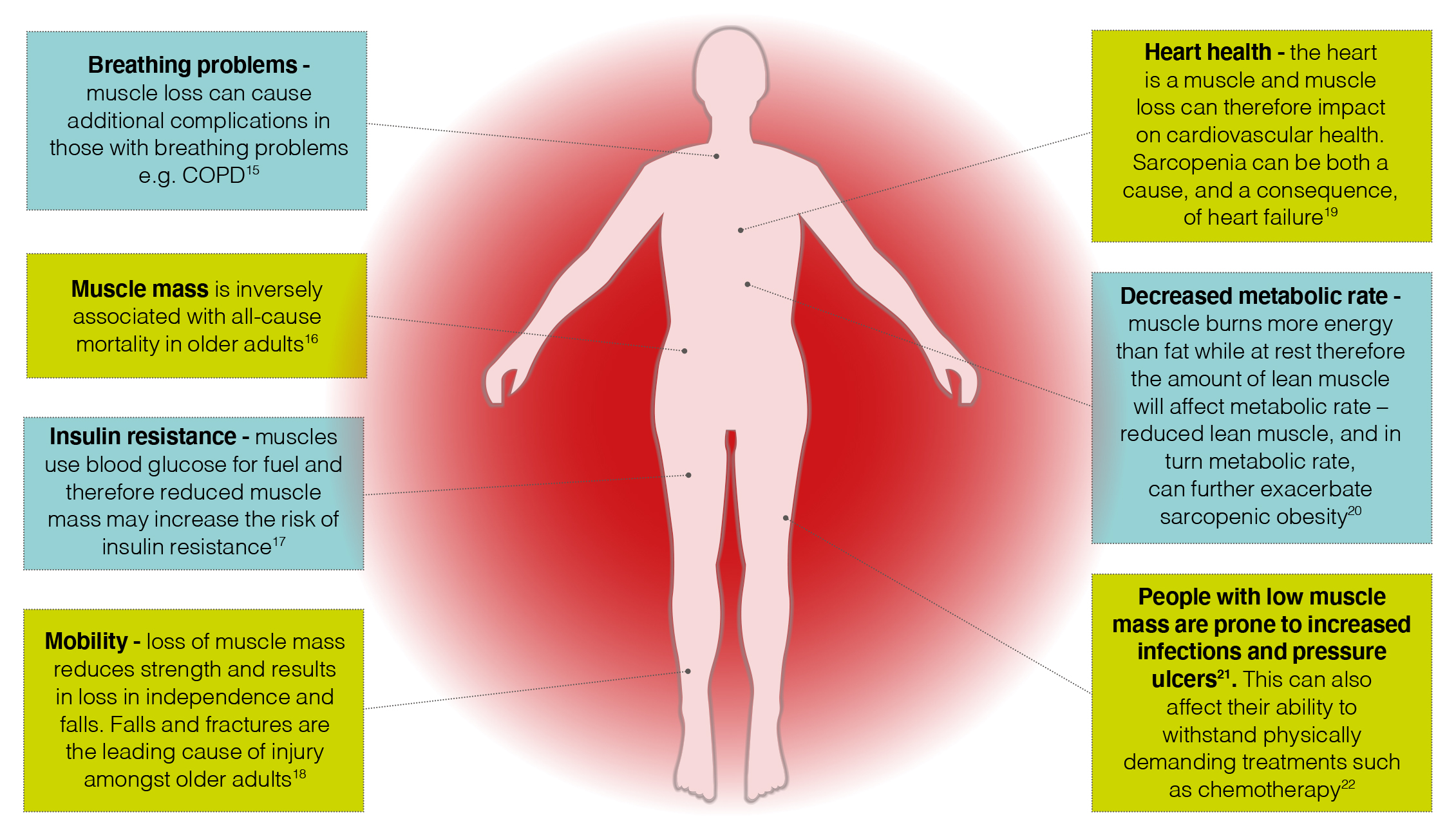 References: 1. Deutz NE, et al. (2014). Protein intake and exercise for optimal muscle function with aging: recommendations from the ESPEN Expert Group. Clin Nutr.; 33(6): 929–936. 2. Cruz-Jentoft AJ, Sayer AA (2019). Sarcopenia. Lancet; 393(10191): 2636–2646. 3. Kenny RA, Romero-Ortuno R, Kumar P (2017). Falls in older adults. Medicine; 45(1): 28–33. 4. Bozzetti F (2017). Forcing the vicious circle: sarcopenia increases toxicity, decreases response to chemotherapy and worsens with chemotherapy. Ann Oncol.; 28(9): 2107–2118. 5. Byun MK, et al. (2017). Sarcopenia correlates with systemic inflammation in COPD. Int J Chron Obstruct Pulmon Dis.; 12: 669–675. 6. Springer J, Springer JI, Anker SD (2017). Muscle wasting and sarcopenia in heart failure and beyond: update 2017. ESC Heart Fail.; 4(4): 492–498. 7. Landi F, et al. (2017). The association between sarcopenia and functional outcomes among older patients with hip fracture undergoing in-hospital rehabilitation. Osteoporos Int.; 28(5): 1569–1576.