Market First Innovation from Wiltshire Farm Foods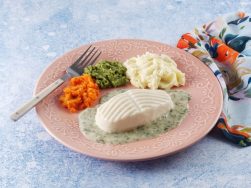 The latest Softer Foods creation from Wiltshire Farm Foods features an innovation which is entirely unique to the market: the shaping of a Level 5 Minced meal. 
The company's development team decided to incorporate this particular feature to enhance the visual element of its new Minced Cod in Parsley Sauce to further support those with swallowing difficulties, also known as dysphagia, in ensuring they receive the nutrition they need.
Committed to creating meals as delicious as they are visually appealing, Wiltshire Farm Foods understands how the aesthetic appeal of a plate of food can impact the appetite.  Giving its customers the ability to eat independently with meals that look enticing ensures dignity in dining; something the company is passionate about.
Emily Stuart, registered dietitian for Wiltshire Farm Foods, stresses the importance of food texture for those living with dysphagia:
"The texture of the main meal component has been designed in line with the requirements for an IDDSI Level 5 meal, in an extremely thick sauce.  A Level 5 meal should require little to no chewing, ensuring a safe consistency for those on a Minced and Moist diet.
"All our Minced meals come ready-prepared, delivered directly to customers' doors, to eliminate the risk that often accompanies home-blending.  There are numerous challenges in creating safe, compliant meals via home blending with the process being both time consuming for carers and potentially hazardous for patients."