Meeting Patient Needs with Training and Support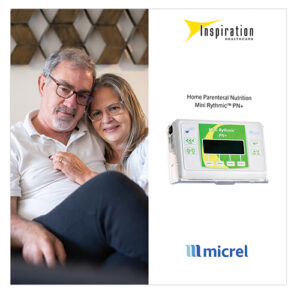 Inspiration Healthcare are the exclusive distributer of the Micrel range of ambulatory infusion devices in the UK.
Our dedicated Infusion Therapy Team are passionate about ensuring that end users feel competent and empowered to use their infusion device safely.
We recognise that the prospect of introducing and learning a new infusion device may seem overwhelming. To support this, we offer training and equipment trials, covering the UK and delivered to homecare providers, home parenteral nutrition centres, carers, nurses, patients and their families. All trials are complimentary, with our team on stand-by to offer help and support during the trial period.
Our training is comprehensive and covers a variety of Micrel infusion devices, including pumps, syringe drivers and accessories. All our training is designed to meet the specific needs of the user or team, where the advanced Micrel technology can make a difference.
To support the differing needs and requirements of our end-users, we offer three different levels of training and a competency-based certificate is issued on successful completion of the training program attended.
Troubleshooting training.
Full user training.
Train the trainer.
"The training Inspiration Healthcare offer is a valuable resource. This ensures our parents and carers are fully trained in the infusion pump and all trained to the exact same standard. This provides the MDT with the confidence the parents and carers are fully competent in the pump use prior to discharge home," said Jenny Goldthorpe, Children's Nutrition Nurse Team Leader, Leeds Children's Hospital.