MicrelCare's Transformative Web – Based Care Management Platform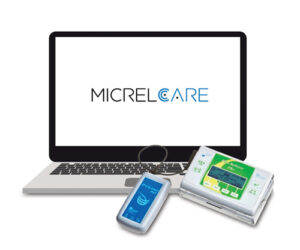 The ability to care for patients in their own homes is becoming a priority, which means healthcare workers face new challenges when it comes to monitoring progress. There is a need to reshape infusion therapy, empowering patients and providers to deliver accurate and efficient care in a homecare setting.
MicrelCare, our innovative web-based care management platform, has been created with this challenge in mind. Our mission is to transform exceptional patient monitoring into routine practice and ensure that healthcare workers have the data they need to accurately and efficiently care for patients, wherever they are.
Empower your patients to self-care at home;
Track – Monitor a patient's infusion volumes against their prescribed intake.
Monitor – Spot potential issues with automatically updated pressure monitoring.
Detect – Clinical and device alerts are sent via SMS and email.
MicrelCare enables you have an instant view of your patients' infusion status with automatically updated data sent wirelessly. With frequently updated volumes, patient feedback, catheter pressure readings and infusion trend reports, you can make truly informed decisions about how to progress.
In addition, the platform allows hospitals and healthcare professionals to collaborate, share updates and adjust patient care plans in real time.
Features include: GPRS. Alerts. Infusion monitoring. Patient treatment trends. Healthcare network. Easy reporting. Patient history.
For more information, please view: www.micrelmed.com or contact us directly for a discovery call at: infusion@inspiration-healthcare.com