NEW Dietetic PODCAST Series!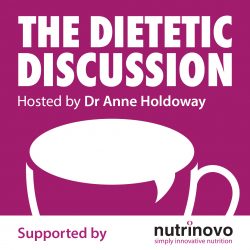 Nutrinovo are delighted to announce their support of a NEW podcast series, which will be hosted by renowned dietitian, Dr Anne Holdoway.
The Dietetic Discussion will see Anne delve into a wide range of current dietetic topics with expert guests, featuring some of the country's leading nutrition professionals.  Each episode aims to provide listeners with valuable insights, reflecting on best practice whilst discussing innovation and the latest evidence. Whilst some topics will be clinically focused, others will be sure to invoke debate and differing opinions – what is for sure is that they will all hold your interest.
Where will I be able to listen…
You will be able to join Anne on The Dietetic Discussion across Spotify, Apple Podcasts and YouTube. For all the latest information and episode release dates, be sure to follow @nutrinovo across both Twitter and Instagram. All episodes will also be available on www.nutrinovo.com.