Oatly Expands Portfolio with Launch of Four New and Improved Oat Drink Lines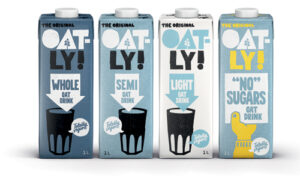 New great-tasting Light, Semi, Whole and "No" Sugars varieties make it easier than ever for consumers to switch from dairy. Oatly has announced the launch of four new oat drink lines in the UK. The new Oatly range will see shoppers able to purchase plant-based Light, Semi, Whole and "No" Sugars varieties in both chilled and long-life formats for the first time.
The new Oatly Light, Oatly Semi and Oatly Whole products are designed with improved recipes to work even better in drinks, cooking and baking and can be stored unopened at room temperature for nine months.
Oatly is also launching a milder-tasting "No" Sugars line, available in both chilled and ambient formats. "No" Sugars has been uniquely developed to offer the same great versatility and deliciousness provided with all Oatly oat drinks, but with a milder, less sweet flavour. Whilst Oatly's entire unflavoured range contain no added sugar or sweeteners, Oatly typically breaks down more of the carbs from oats during the production process for a naturally sweeter taste.
All products are low in saturated fat and are a rich source of calcium, iodine, riboflavin and vitamins B12 and D. They do not contain dairy or soya and have no added sugar.
The new Oatly products are available now in 1 litre formats in major retailers across the UK, including Tesco, Sainsbury, Co-op, Waitrose, Asda, Morrison's, Ocado, and Amazon.
For more information: oatly.com/en-gb/stuff-we-make.