Online survey on Dietetics and Primary Care – Have your say and a chance to win a £25 Amazon gift voucher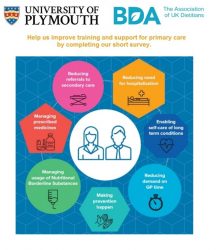 It is positive to see so many roles and vacancies arising for dietitians to work in the primary care setting.  Since the change in funding with the GP contract agreement and dietitians being added to the additional roles reimbursement scheme1 Primary Care Networks (PCNs) have started advertising and recruiting more dietitians. PCNs form a key building block of the NHS Long Term Plan.2 It has also been outlined in the GP Forward View that better use is made of the talents of the wider workforce and the focus should be on the prevention of ill-health.3
We already know the value of what dietitians can offer and there is strong evidence on the effectiveness of dietitians working in primary care.4-6 Dietitians have the specialist knowledge and unique skill set to see patients with complex and lifestyle related disease.
PCN dietitians can work as an 'expert generalist', providing support and advice across a wide range of clinical conditions, including obesity, cardiovascular disease,  diabetes, frailty, malnutrition and gastrointestinal disorders such as irritable bowel syndrome and coeliac disease.7
A recent project funded by the British Dietetic Association (BDA) and Health Education England (HEE) undertaken by the University of Plymouth looked at how dietitians could work in primary care and three different models of care were evaluated with some really positive results in the areas of paediatric food allergy, frailty and malnutrition and the dietitian working as an expert generalist.8
Many dietitians are already networking and collaborating to share experience, knowledge and support each other in these PCN dietitian roles. It is essential that there are systems in place to support and nurture practitioners in primary care.9 The concept of dietitians working within a primary care setting is still in its infancy and more research is required to inform appropriate advocacy and primary healthcare policy decision.
The BDA are also helping to raise the profile of dietitians in primary care and there are a number of online resources available, including the dietitians in primary care paper: www.bda.uk.com/practice-and-education/nutrition-and-dietetic-practice/dietetic-workforce/primary-care.html and flyer www.bda.uk.com/uploads/assets/8d84b963-6d63-4b91-98d57ebb52346d72/dietitiansinprimarycareleaflet.pdf
For more information on dietitians in primary care you can contact: edpd@bda.uk.com to be added to the BDA Primary Care discussion forum or join the Dietitians in General Practice Facebook group.  Research findings will help to inform the development of a competency framework and training package for dietitians in primary care.
Debra Williams (Dietetic Lecturer at the University of Plymouth) recently launched a survey which will explore the views of UK-based registered dietitians working in a primary care settings. You are eligible to complete this survey if you are working in primary care and/or freelance dietetics. The results from this survey will further help to understand the training needs of dietitians for them to work more effectively in primary care.  This survey is open until the 2nd June 2021 (however this could be extended). Please click here to complete the survey your views matter!
References: 1. NHS England, British Medical Association (2020). Primary Care Strategy and NHS Contracts Group. Update to the GP contract agreement 2020/21- 2023/24. Accessed online: www.england.nhs.uk/wp-content/uploads/2020/03/update-to-the-gp-contract-agreement-v2-updated.pdf.  2. NHS England (2019). The NHS Long Term Plan – a summary. London, NHS. Accessed online www.longtermplan.nhs.uk/wp-content/uploads/2019/01/the-nhs-long-term-plan-summary.pdf (May 2021).  3. NHS England and Royal College of General Practitioners (2016) General Practice Forward View April 2016. Accessed online: www.england.nhs.uk/wp-content/uploads/2016/04/gpfv.pdf (May 2021).  4. Mitchell LJ, et al. (2017). Effectiveness of Dietetic Consultations in Primary Health Care: A Systematic Review of Randomized Controlled Trials. Journal of the Academy of Nutrition and Dietetics. 117(12): 1941-1962.  5. Howatson A, Wall C, Turner-Benny P (2015). The contribution of dietitians to the primary health care workforce. Journal of Primary Health Care; 7: 324-332.  6. Williams M (2013). The Importance and Practical implementation of the Low FODMAP Diet. Complete Nutrition Focus; 5(1): 9-11.  7. BDA (2017). Dietitians in primary care paper. Accessed online: www.bda.uk.com/uploads/assets/d8272cae-2214-4df6-930d24fd00536494/bdaprimarycarepaper.pdf (May 2021).  8. BDA (2021) Primary care across the UK. The primary care project. Accessed online: www.bda.uk.com/practice-and-education/nutrition-and-dietetic-practice/dietetic-workforce/primary-care.html (May 2021).  9. Hewat C (2009). 'Primary health care: the new frontier. Are dietitians on the front line or just bring up the rear?' Nutrition & Dietetics; 66(2): 72-73.