PODCAST OF THE MONTH: Wiltshire Farm Foods Launches 'Dietitian Diaries' Podcast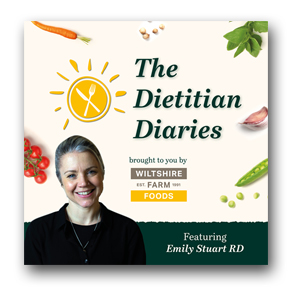 Wiltshire Farm Foods has decided to use its dietetics expertise to inspire important conversations around key nutritional areas by launching a podcast with Registered Dietitian, Emily Stuart, as the host.
Aimed specifically at dietitians, 'The Dietitian Diaries' will feature three guests discussing all things nutrition related over the course of the next three months.
Emily is delighted to be hosting this new podcast from Wiltshire Farm Foods:
"I think it's really important to get conversations started about key issues patients might face when it comes to nutrition by discussing practical issues which dietitians and healthcare professionals encounter daily. I'm looking forward to talking with a variety of inspiring clinical minds practicing in dietetics today."
"My hope is that we can create highly engaging conversations within the dietetics community following each episode and provide key learnings for HCPs to put into practice."
Episode One featured RD Simone Roberts, a senior community dietitian who works with older adults and those with learning difficulties. She is also a member of the BDA's Older People's Group. In the first episode, which launched in October, Emily shined a spotlight on Malnutrition Awareness Week, founded by BAPEN and Malnutrition Task Force, now in its fourth year.
Episode Two will focus on the IDDSI framework, how it links to crucial issues surrounding nutrition and how it helps dietitians and healthcare professionals in general to provide the best care to their patients. Featuring adult neuro Speech and Language therapist, Tess Essop, Emily will discuss the importance of a MDT approach with Tess, her role in meeting nutritional requirements of dysphagia patients and considerations around IDDSI levels when working with her patients.
Listen to episode one and look out for upcoming episode two of Dietitian Diaries on Spotify here and Apple here.
Don't forget to share your thoughts on the episode on Twitter with @SNwff using #DietitianDiaries
Click here to listen!