PRODUCT OF THE MONTH: Birds Eye Soft Meals – brought to you by Alimento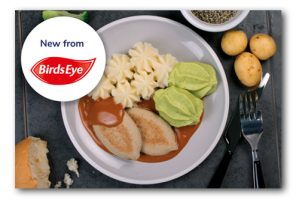 IDDSI compliant meals for those with swallowing and chewing difficulties.
Birds Eye Soft Meals are nutritionally balanced and beautifully presented, with each meal representing one typical full adult serving. Preparation is easy – simply cook in the microwave from frozen.
All meals are provided as IDDSI Level 7 Easy to Chew. However, they can be easily modified with a fork to meet the requirements for IDDSI levels 4, 5 and 6.
Available in a varied menu to accommodate a wide range of tastes and preferences.
Click here to request your free meal samples.